Back to all posts
Posted on
Fundraising celebrations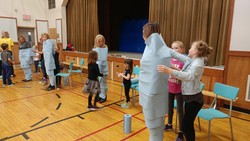 We are thankful for the fundraising efforts of the Friends of Pipestone School (FOPS) society and everyone in our school community who supports the variety of fundraisers we do each year.
The most recent fundraiser was for Lil Caesar's Pizzas and the event was a terrific success and raised $1100.  Those funds will go toward supporting great things for our students including covering cost of transporting students on field trips, student agendas, birthday books, and special performances.
To celebrate the success of the pizza fundraiser, there was a Mummy Madness event at our October 30th assembly.  Students whose families were the top fundraisers got to choose a staff member to wrap up as a mummy!  Congrats and thanks to all the families in our school community, and special thanks to the following top six families for their great sales totals: Aidla, Peterson, Church, McConnell, Lemon, and our top pizza fundraisers, the Handbury family, whose total order was for over $1100! 
A big thank you goes out to the McConnell Family and McConnell Moving for their generosity in making a $2500 donation to Friends of Pipestone School.  That will go a long way to supporting the kids!