Back to all posts
Posted on
Ian Porteous - Cultural Presentation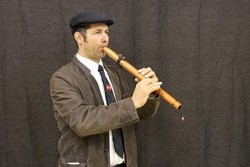 On October 16, 2018 9:00 a.m. the Pipestone School will welcome Ian Porteous to perform
the Cultural Wheel which is a series of workshops plus a final presentation where the students are featured in the performance (an old time dance). The Cultural Wheel is made up of four quadrants: folklore, community, kinesthetic, and celebration.
By journeying through these quadrants, students experience a deeper sense of identity, community and learn to celebrate together. Integration and acceptance is learned through movement and the interaction of healthy contact.
The program uses social dance, which is a non-competitive physical activity that promotes wholesome, respectful, non-discriminating physical contact. Ian delivers with a deep sense of confidence, authenticity and systemization.
Remarkable inclusion is a natural result of this program – it is an equalizer. A traditional social dance experience teaches respect, consideration and true community. Students will have a better idea of their historical identity as Canadians and experience being part of an unforgettable hands-on event.
For more information: Click HERE