Back to all posts
Posted on
Mulhurst Legion Contest awards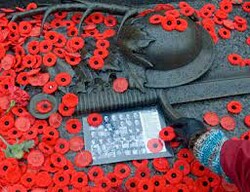 We are proud of all the students that submitted poems and posters to the 2021 Mulhurst Legion contest.
This year Mulhurst Legion Remembrance Day Poster and Poem contest award recipients from our school were Mira Schmidt (First place junior poem); Beth McConnell(First place in Junior black and white poster); Nevada Harris (Second place in junior pem); Hazel Klus (Third place in junior poem); and Olivia Gillies (Third place in primary color poster).
Congratulations to the award recipients for their effort and accomplishment.