Back to all posts
Posted on
November Celebrations and Legion Poster Contest winners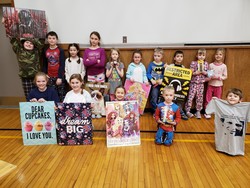 On November 27th, Pipestone School had our monthly celebration and school spirit day.  The theme was PJ/Movie day and it was a great success! 
At our monthly assembly, some of our students were recognized for their best behavior choices.  Pipestone School gives out Gotcha slips to students who are caught making terrific choices for making school safe, caring and a great place for learning.  All of the Gotchas go in for weekly and monthly draws. 
Another part of the celebration assembly was the announcement of the 2018 Legion poster contest District level winners.  Winners were as follows and will get more official recognition in the New Year from the terrific members of the Mulhurst Legion. Their posters go on to the Regional judging.
Black and White Poster
Primary grades: First - Gabrielle Handbury; Second - Denise Cortes
Grade 4-5-6: First - Kai McLean; Second - Catherine Choi; Honorable Mention - John Marsh
Color Poster
Primary: First - Beth McConnell; Second - Zayne Cross; Honorable Mention - Fletcher Tizzard
Grade 4-5-6: First - Garett Schmidt; Second - Makaylee Busse; Honorable Mention - Chas Anderson
It was a GREAT DAY FOR LEARNING TO SUCCEED at Pipestone School!