Back to all posts
Posted on
Pipestone School Remembers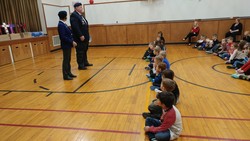 On November 8th, Pipestone School held its annual Remembrance Day Assembly.
Our ceremony featured laying of a wreath, students sharing messages of peace, a student group reciting In Flanders Fields, and a speech by Dave MCannell from the Mulhurst Legion.
We thank the Andrusiak family who presented the wreath on behalf of our school at the Mulhurst legion ceremony on November 11th.
We Remember!