Back to all posts
Posted on
Thank you to FOP$ for school performance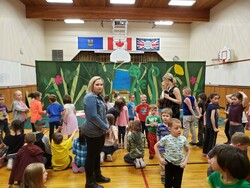 On April 23, a touring theatre company presented the play The Antyssey. The play had a message of working together while embracing diversity.
We really appreciate the donation from Friends Of Pipestone School (FOP$) to cover the cost of this very worthwhile presentation.
P.S. The picture was just after the show ended because copyright restrictions didn't allow us to take photos during the performance.