Back to all posts
Posted on
We're at the Symphony!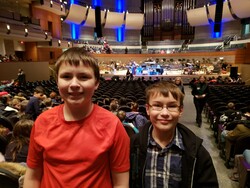 Despite the chill we've arrived at the Edmonton Symphony and are ready for a wonderful performance here at the Winspear.
A huge thank you to the Pigeon Lake Child & Family Society for the donation that covered the cost of the bus and the tickets for this terrific Arts experience for all of our students!